The Auckland Council have plans for our Drury and District and in order to keep up to speed with these ongoing developments, the Auckland Council are having a series of public meetings around the issue of RAIL and the plans on the board currently, to cater to the expansion of rail network in and around our region.
Improving rail for southern Auckland
'With Auckland at Alert Level 1, we're delighted we can hold face-to-face community events again.
Visit us on Tuesday 23 March from 4:30pm – 6:30pm at the Drury Hall, 10 Tui Street to find out more about the proposals for the new stations for Drury and Paerata and KiwiRail's work to extend electric train services to Pukekohe.
Our project team, including members from Auckland Transport, KiwiRail and Supporting Growth will be on hand to answer your questions and listen to your feedback.
We look forward to seeing you.'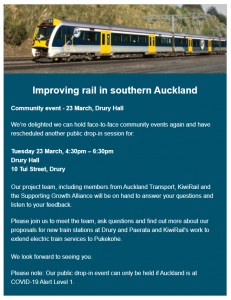 Click through to the Auckland Council website